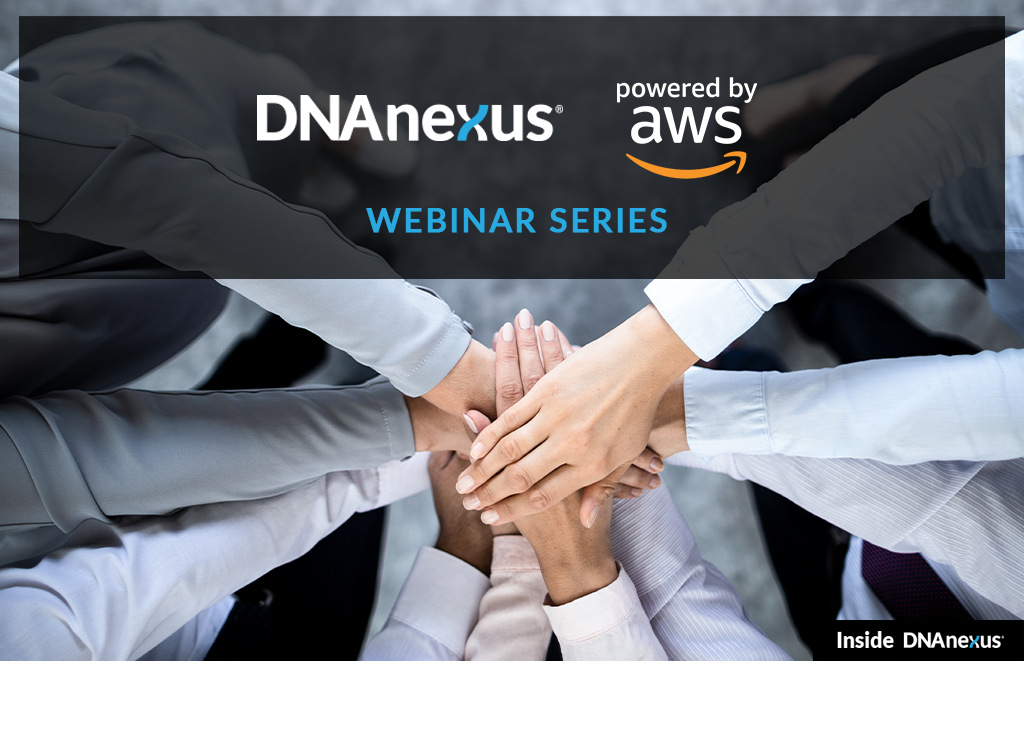 Polymerase and primers. VCF and TBI. DNAnexus and AWS. Some things are just better together.
At DNAnexus, we are big believers in collaboration — among scientists, between industry and academia, and amid complementary technologies. Our platforms enable researchers to work together across geographical boundaries, and to bring together various types of multi-omics data spanning single cell expression, population genomics, microbiome, and epigenetics.
To do so, we work closely with Amazon Web Services to leverage the scalability of the AWS cloud and incorporate the latest advances in analytics and knowledge management. Life science organizations of all sizes and disciplines choose DNAnexus and AWS to help navigate the complexity and scale of their biomedical research to meet their immediate unique business needs, as well as long-term growth plans.
Join us this month as we hear from two businesses that harnessed the power of DNAnexus and AWS to greatly expand their operations.
Tuesday, September 21, 2021
1 p.m. Eastern Daylight Time
San Diego based Human Longevity, Inc., is hoping to revolutionize precision health care with a suite of tests, services and care that help preempt disease before symptoms arise. Its Health Nucleus Clinic aggregates more than 150 gigabytes of data from whole-genome sequencing, whole-body magnetic resonance imaging, metabolomics, comprehensive blood biomarkers, and other modalities to deliver a complete, personalized picture of health.
In this webinar, Wayne Delport will discuss the development of its whole-genome sequencing product used by Health Nucleus physicians to provide personalized care based on assessment of risk. He will cover the technical and regulatory challenges posed by delivery of this product and how HLI used the DNAnexus Titan Platform on AWS for everything from data ingestion, data analysis, and data delivery, enabling the company to streamline their genomics infrastructure and focus on product improvements.
Wednesday, September 29, 2021
1 p.m. Eastern Daylight Time
In 2014, the Regeneron Genetics Center demonstrated how cloud infrastructure can rapidly transform a drug discovery program by enabling the generation, delivery and analysis of genetic results at unprecedented speeds. Six years and two orders of magnitude later, scale is no longer measured in numbers of samples but in the diversity of the RGC's collaborator network, the successful programs of industry partners, and the unrealized opportunities of the world's largest genetic resource.
Find out how RGC and DNAnexus support a growing hybrid industry/academic community, including managing hundreds of collaborators with a full spectrum of use cases, ensuring participant confidentiality through unparalleled international compliance, protecting partner IP through autonomous research and billing environments, and driving the value of genetic data through cost-efficient sharing of genetic data, tools, and results.
Want to learn more about how DNAnexus and AWS work together to support multi-omics projects in the Cloud? Download our latest white paper: Multi-Omics in the Cloud.