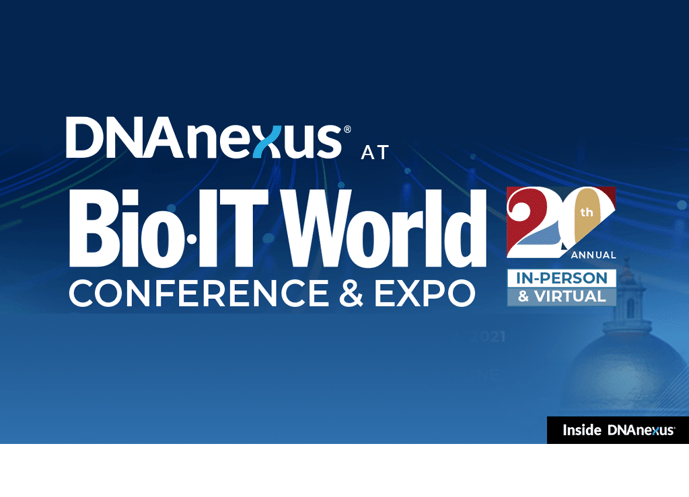 We're excited to see you back in you person at Bio-IT World in Boston! We'll be there, masked up, and ready to join fellow life sciences, clinical, healthcare, pharma, and IT professionals to discuss recent advancements in the field, and the future of precision medicine. Come to our talks and visit us in booth 204 to learn about the latest enhancements to our biomedical data platform. Can't make it to any of our events? Email us at marketing@dnanexus.com to schedule a meeting with one of our scientists.
DNAnexus Talks & Booth 204 Events
Tuesday, September 21
COVID & IT: SARS-COV-2 Genome Analyses and Computational Tools for Infectious Disease Surveillance
8:40am
Speaker: Ben Busby, Director Research Platforms
The COVID-19 pandemic has revealed the criticality of computational approaches for monitoring environmental microbiomes for emerging pathogens. This talk will focus on computational tools that enable rapid and robust global surveillance of infectious disease and will focus on existing computational approaches for SARS-CoV-2 detection and monitoring.
Booth Spotlight: Synthesis Data Harmonization on DNAnexus
As scientists seek to manage and interrogate larger volumes of diverse datasets, data harmonization becomes ever more complex. The Snthesis platform ingests data from a wide range of sources, including LIMS platforms, electronic lab notebooks, structured data extraction from handwritten notes, PDFs, Excel files, EHR data, and data output from lab instrumentation, and harmonizes them in an automated way. Join this booth session to learn more about data harmonization on DNAnexus with Snthesis.
Explainable ML for Adverse Drug Reactions Using DNAnexus
10am – Track 5: AI for Drug Discovery & Development
12:30-1pm – Booth Spotlight
Speaker: Mike Lelivelt
Pharmacogenomics researchers can leverage UK Biobank to better understand how genes affect a person's response to drugs. Learn how DNAnexus Apollo efficiently analyzes this massive dataset with explainable machine learning models to gain insight into ADRs.
Booth Spotlight: UK Biobank Research Analysis Platform
UK Biobank contains a trove of genomic and clinical information from 500,000 volunteers, including exome and whole genome sequencing data, blood samples, medical imaging and extensive environmental and lifestyle data.. To address the scale of the dataset, UK Biobank partnered with DNAnexus to build the UK Biobank Research Analysis Platform. Leveraging the power and scalability of the cutting-edge, cloud-native DNAnexus Apollo Platform, the Research Analysis Platform enables researchers easily and quickly to search and analyze the incredibly rich UK Biobank dataset.
Wednesday, September 22
Data Federation Panel: From Biobank Scale to Individual Patients: Bringing Complex Multi-Omic Data to the Clinic and Clinical Research
9:55am – Track 2: Data Management
Panel Speakers: Ben Busby, DNAnexus; Ankita Das, MIODx; Rory Kelleher, NVIDIA, Ahmad Khleifat, King's College London
Multi-omics datasets of different diseases are available to researchers, and for the first time the availability of new analytical tools allow for the incorporation of these datasets in clinical research. However, there are serious challenges involved in realizing the promise of these developments. Developing new methods for multi-omics data will allow for better patient stratification, more targeted treatments, and greater understanding of disease mechanisms.
A Multi-Omics Data Science Platform Powering a Comprehensive Precision Oncology Strategy
11:25am – Track 3: Software Applications & Services
1:15-1:45pm – Booth Spotlight
Speaker: David Fenstermacher, VP Precision Medicine & Data Sciences
DNAnexus and City of Hope Comprehensive Cancer Center (COH) embarked on a partnership to develop a scalable cloud-based oncology platform, POSEIDON, to democratize data for COH's research and clinical programs, accelerating the fulfillment of its Precision Oncology Strategy. POSEIDON leverages DNAnexus bioinformatics technologies to combine multi-omics data in a unified platform that supports advanced analytics and visualizations within a collaboration portal to discover new evidence-based treatments.
Panel: Deconvolution of Massive Scale Datasets from Etiological Lessons: Technical Tips and Tricks, Data Interoperability for Training, and Feature Extraction
4:00pm – Track 2: Data Management
Panel Speakers: Ben Busby, DNAnexus; Emerson Huitt, Snthesis; Vivian Neilley, Google Cloud Healthcare; Sean Davis, University of Colorado Anschutz Medical Campus