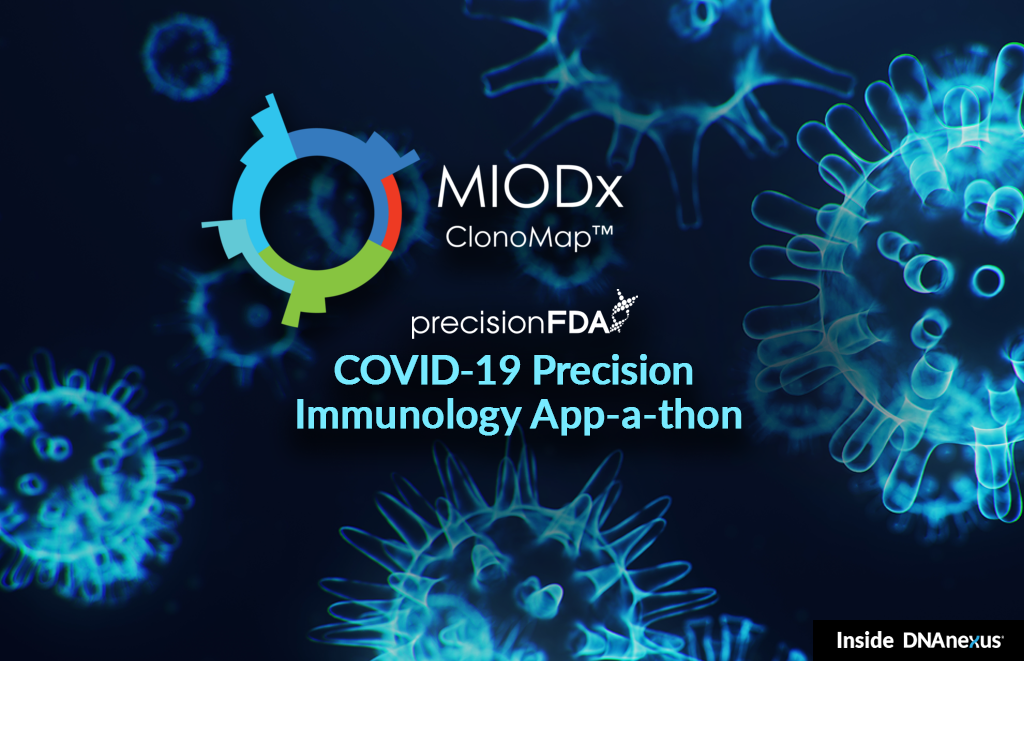 The results are in for precisionFDA's COVID-19 Precision Immunology App-a-thon, and we are thrilled to announce our partner, MIODx, demonstrated strong leadership in their field by taking home medals in multiple categories!
Motivation Behind the COVID-19 Precision Immunology App-a-thon
Despite the accelerated scientific pace of COVID-19 research, treatments, and vaccine development, critical questions remain unanswered, including the role of genetic variability of an individual's immune system on their response to SARS-COV2 infection. To effectively combat the widespread transmission of COVID-19 infection and save lives, better understanding of its pathophysiology is needed to help enable effective diagnosis, prognosis, and treatment strategies.
Through the precisionFDA COVID-19 Precision Immunology App-a-thon, the Food and Drug Administration (FDA) called upon the scientific community to develop innovative and user-friendly tools to explore the relationship between personalized immune repertoires and COVID-19 disease outcomes. Participants were evaluated by judges in six categories (Table 1), and MIODx took home awards in 5 out of the 6 categories for their ClonoMapTM Immune Profiler and ImmuneInsight tools.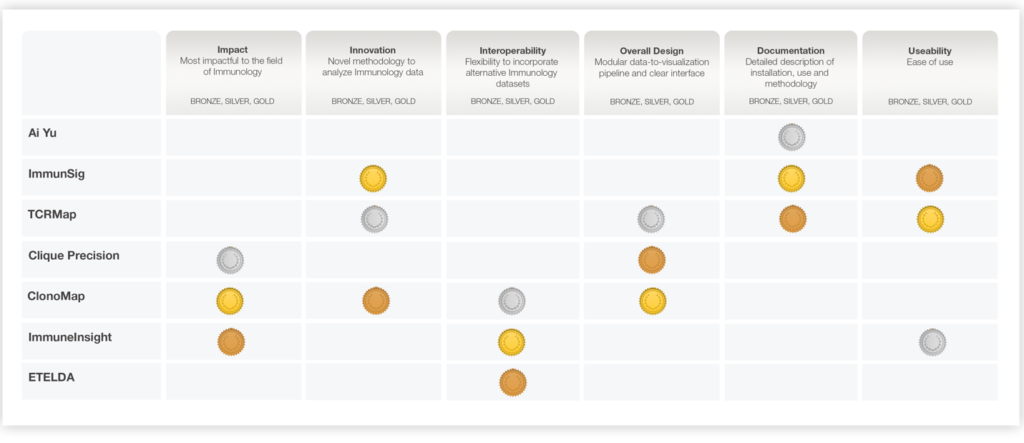 The ClonoMapTM Immune Profiler and Immune Insight tools were featured due to their high-quality visualizations, excellent documentation, ability to be an out-of-the-box solution for exploratory analysis, and potential impact to the field of precision immunology. See all the results of the app-a-thon here.
MIODx' Impact on COVID-19 Biomarker Discovery and Disease Severity Prediction
Excelling in the eyes of the judges was just one highlight for the MIODx team. Their analytics and visualization tools, ClonoMapTM Immune Profiler and Immune Insight, were used to generate hypotheses and find preliminary evidence of T Cell receptor (TCR) repertoire genes as biomarkers of significance for COVID-19 clinical outcomes.
ClonoMapTM Immune Profiler is an automated TCR repertoire analysis pipeline that utilizes FASTQ files for downstream analyses and was used in the app-a-thon to investigate whether there are biomarkers in the TCR repertoire data that are predictive of disease severity.
Among the key findings, Immune Profiler highlighted specific T Cell Receptor Beta Variable (TRBV) genes and CDR3 clonotypes at different frequencies in healthy individuals compared to COVID-19 recovered patients. These results provide candidate TCRs for further investigation with respect to COVID-19 disease severity.
One particularly interesting TRBV (TRBV19) was found at high frequency in all samples (healthy and COVID-19). Using their Immune Insight literature search tool, the MIODx team determined that this TCR is specific to influenza virus antigens. MIODx is now investigating the link between this public clonotype and COVID-19 disease progression.
Overcoming TCR Analysis Computational Challenges
Despite the enormous potential of TCR analysis in precision medicine, big data and computational challenges remain to effectively sequence and analyze T-cells at scale. To that end, MIODx has launched ClonoMap™ Immune Profiler on DNAnexus Titan™, which provides a cloud environment, enabling seamless sharing of projects, data, and pipelines to team members who have approved access. Researchers can upload their data, integrate new data sources, conduct analyses with the ClonoMap™ pipeline, visualize, and share results with collaborators – all within an intuitive user interface.
The DNAnexus Titan™ Platform allows MIODx to maintain multiple versions of their pipeline. They can give customers access to the production version, while also testing updates and making changes to the pipeline's research version. DNAnexus enables MIODx's customers to securely bring their own data online within their shared project and immediately apply the MIODx ClonoMap™ pipeline to generate results.
See ClonoMap™ Immune Profiler in Action
Ankita Das, Head of Product, at MIODx will be joining us for a precision immunology webinar, where she will present the clinical relevance of sequencing the TCR repertoire, methodologies for analyzing and interpreting TCR data, and an in-depth look into how their tools generated preliminary evidence of biomarkers in the TCR repertoire that are predictive of COVID-19 disease severity.
Date: May 27th, 10am PT / 1pm ET