Today, the precisionFDA Next Generation Sequencing (NGS) Team received the FDA Commissioner's Special Citation Award for Outstanding Achievement and Collaboration in the development of the precisionFDA platform promoting innovative regulatory science research to modernize regulation of NGS-based genomic tests. This award recognizes superior achievement of the Agency's mission through teamwork, partnership, shared responsibility, and fostering collaboration to achieve the FDA goals.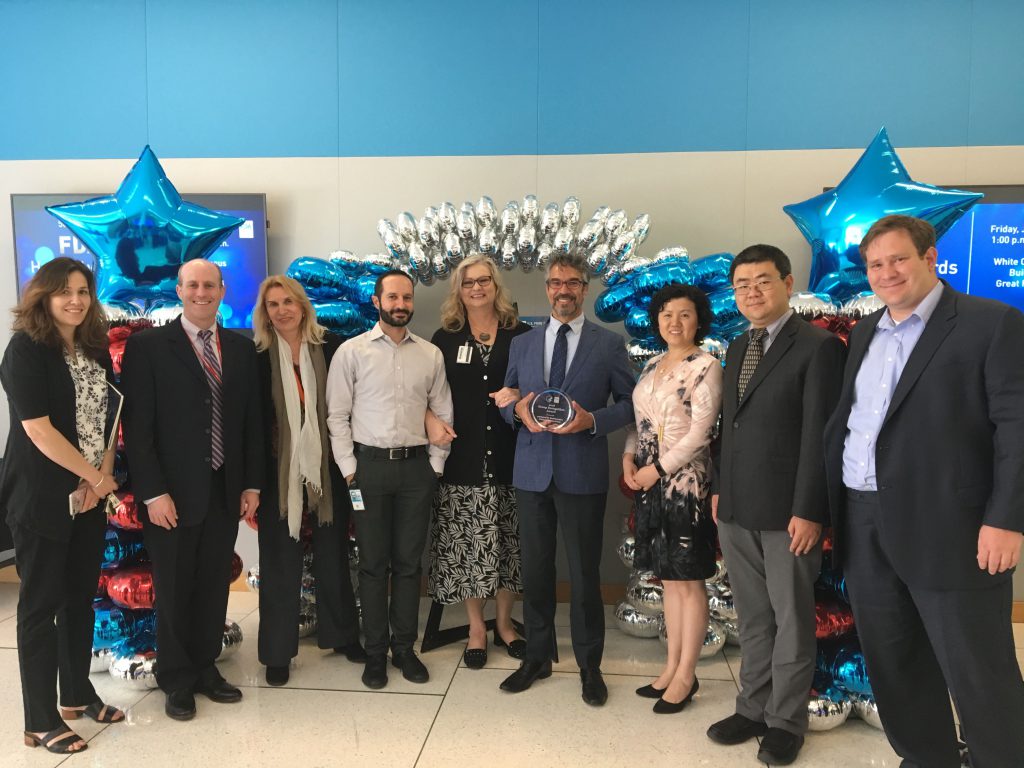 PrecisionFDA is an online, cloud-based, virtual research space where members of the genomics community can experiment, share data and tools, collaborate, and define standards for evaluating and validating analytical pipelines. This open-source community platform, which has become a global reference standard for variant comparison, includes members from academia, industry, healthcare, and government, all working together to further innovation and develop regulatory standards for NGS-based drugs and devices. Launched in December 2015, the precisionFDA community includes nearly 5,000 users across 1,200 organizations, with more than 38 terabytes of genomic data stored.
To date, the precisionFDA NGS Team has engaged the genomics community through a series of community challenges:
The Consistency Challenge (Feb-Apr 2016): Invited participants to manipulate datasets with their software pipelines and conduct performance comparisons.
The Truth Challenge (Apr-May 2016): Gave participants the unique opportunity to test their NGS pipelines on an uncharacterized sample (HG002) and publish results for subsequent evaluation against a newly-revealed 'truth' dataset.
App-a-thon in a Box (Aug-Dec 2016): Invited the community to contribute NGS software to the precisionFDA app library, enabling the community to explore new tools.
Hidden Treasures Competition (Jul-Sep 2017): Participants beta-tested the in-silico analyses of NGS datasets for the purpose of determining the reliability and accuracy of different NGS tests.
CFSAN Pathogen Detection Challenge (Feb-Apr 2018): Participants helped to improve bioinformatics pipelines for detecting pathogens in samples sequenced using metagenomics.
We are thrilled that precisionFDA has been recognized for its efforts in fostering shared responsibility for the evaluation and validation of analytical pipelines. PrecisionFDA's proven success has driven other scientific communities such as St. Jude Cloud to promote pediatric cancer research, and the Mosaic microbiome platform for advancing microbial strains analysis, to establish their own collaborative ecosystem for members to contribute and innovate. DNAnexus is proud to be the platform that powers precisionFDA and other community portals to advance scientific research through a secure and collaborative online environment.
To learn more about DNAnexus community portals please visit: https://go.dnanexus.com/community-portals.