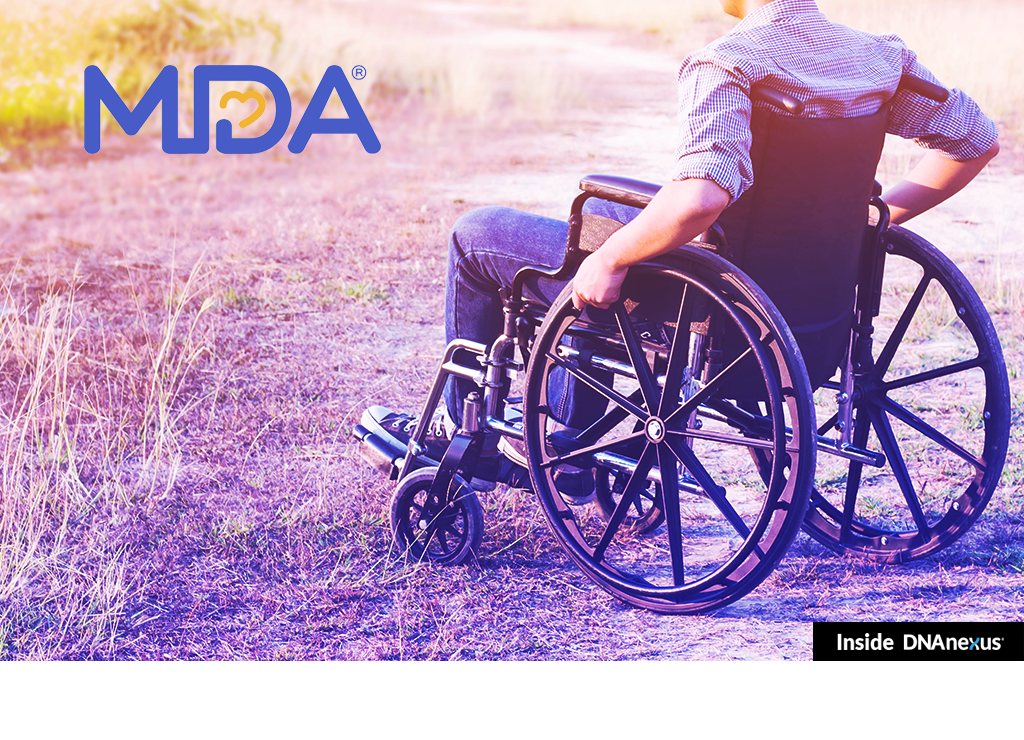 Outcomes for many with neuromuscular disease have improved dramatically in recent years, with the launch of Biogen's Spinraza drug and Novartis' gene therapy Zolgensma for spinal muscular atrophy treatments among those making recent headlines.
We are proud that our platforms can play an integral role in helping to fuel research and drug development in neuromuscular disease through a new partnership with the Muscular Dystrophy Association (MDA).
MDA has doubled down on efforts to ensure those able to directly impact the lives of people living with neuromuscular disease have state-of-the-art tools to share data, and at the core of that is a new visualization and analysis platform powered by DNAnexus.
The neuroMuscular ObserVational Research (MOVR) Visualization and Reporting Platform (VRP) will enable 37 MDA Care Centers to analyze data from the MOVR Data Hub – MDA's HIPAA-compliant, CDISC-formatted registry that collects longitudinal data in seven disease indications: amyotrophic lateral sclerosis, spinal muscular atrophy, Duchenne muscular dystrophy, Becker muscular dystrophy, facioscapulohumeral muscular dystrophy, limb-girdle muscular dystrophy and Pompe disease.
In order to extract value from the MOVR Data Hub, a comprehensive data harmonization and ingestion strategy was required. DNAnexus has worked with other leading organizations like UK Biobank, City of Hope, and now MDA, working with a multitude of common data models such as OMOP, CDISC, and other data schemas to support each customer's unique use case. Now that the MOVR data has been ingested researchers can now unleash the power of this tremendous dataset.
Created both with clinicians and researchers in mind, the MOVR VRP features an intuitive and customizable interface, allowing different levels of analysis, from overviews of disease progression and outcomes across sites, to in-depth dives into clinical parameters across large cohorts of neuromuscular patients.
This level of correlative analyses could ultimately stimulate new drug, biologics and gene therapy discoveries. Exploration of deeply curated neuromuscular disease cohorts in the MOVR VRP could also help in clinical trial design, by enabling clinical researchers to rapidly identify populations that meet specific clinical criteria.
DNAnexus' hallmark security, compliance and collaboration components will also enable increased accessibility of MOVR data to the wider neuromuscular clinical and research communities. And the platform is expected to make it easier for MDA to carry out training, fulfill data requests, review publications, encourage peer-to-peer collaboration and publishing, and share learnings across multiple channels.
The MOVR VRP currently leverages phenotype data from the MOVR Data Hub, but it has been developed to handle a wide range of EHR and genetic data types, enabling the platform to scale up as needed.
"The MOVR database, combined with the visualization and analysis platform from DNAnexus, allows us to make the most of this data in a way that really brings it to life to aid in developing new therapeutics."

MDA's President & CEO, Lynn O'Connor Vos
We are proud to serve as the technology platform bringing together MDA researchers and their partners to advance cures for this collection of neuromuscular diseases.