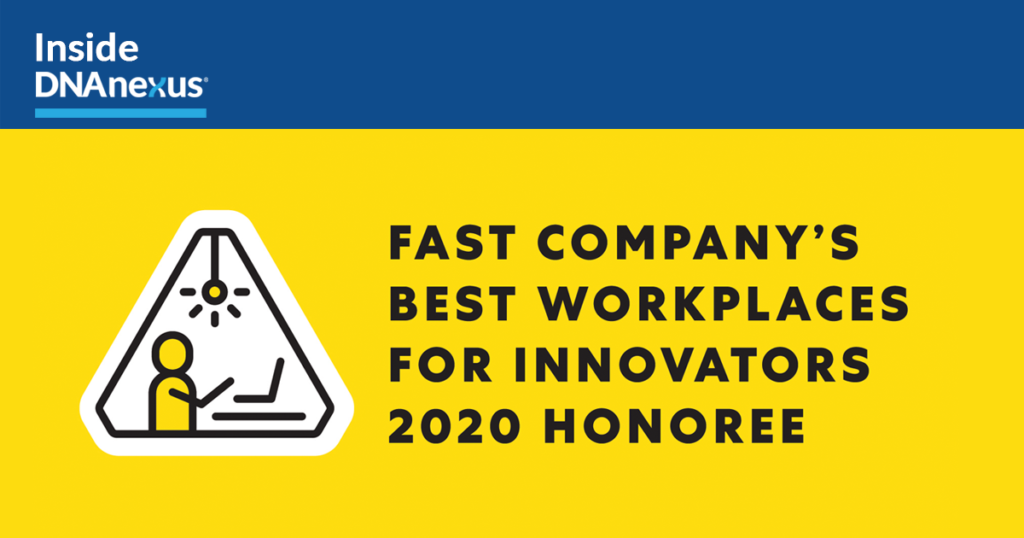 Fast Company has named DNAnexus to its second annual list of the 100 Best Workplaces for Innovators for our work to revolutionize the use of genomic and other omic information in healthcare.
Advances in genome technologies have led to a deluge of data — and discoveries. At DNAnexus, we strive to develop innovative solutions to manage all of this information in a secure, compliant environment that integrates a wide variety of data types, and enables scientists around the world to collaborate. We are applying the most advanced technologies to enable targeted cancer therapies, facilitate genetic testing, and speed the discovery of lifesaving new drugs.
We constantly find ourselves asking, "What if there was a better way to make sense of molecular data to transform human health?" Our internal research team's main focus is to advance the AI and machine learning capabilities of the DNAnexus suite of products, and continue innovating within this emerging field. This cross-disciplinary team works to understand and apply new applications and computational methods that are likely to have the biggest impact on the genomics sciences and industry.
Our team is sourced with five sites around the world, representing dozens of nationalities and backgrounds. We embrace diversity and unique perspectives and foster a workplace environment in which everyone is encouraged to contribute and think outside-of-the-box. We believe that great products come from passionate teams who support and embrace collaboration, and we are committed to helping our customers and colleagues achieve their "aha!" moments. By cultivating this culture of respect, passion, trust, and collaboration, we see real benefits, in the form of innovation, employee empowerment, customer satisfaction — and fun!
As much of the world works to surmount health, economic, and social crises, we recognize that innovation is needed now more than ever. We celebrate with the many other organizations that have fostered innovative thinking by investing heavily in exploring new technologies, R&D, and their employees.
Want to join our innovative team? Visit our Careers page to explore open positions.