We've always been proud of our innovative technology solutions, and recently we had the opportunity to celebrate our success with our European partners at the Summit for Clinical Ops Executives (SCOPE)-Europe in Barcelona, Spain.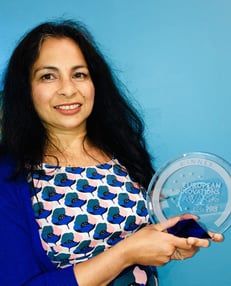 Preeti McGill, EMEA Account Director, was on hand to accept DNAnexus' European Innovations Award, sponsored by Clinical Research News. Fellow awardees included the UK's Guys and St. Thomas' NHS trust and Tata Consultancy Services.
The European Innovations Awards  program seeks to recognize outstanding examples of applied strategic innovation—partnerships, deployments, and collaborations that manifestly improve the clinical trial process.
"These awards celebrate dedication and innovation in clinical research, and the winners chosen highlight the inspiring work being done in the industry," said Allison Proffitt, Editorial Director of Clinical Research News. "The research community in Europe is increasingly open, and the projects showcased in this year's award program prove their dedication to excellence."
One project in particular, the UK Biobank Consortium Data Delivery and Cohort Browser, was noted for its contribution to the scientific community. Part of the DNAnexus Apollo Platform, the cohort browser was designed to democratize data access to the UK Biobank, which has collected and developed a biospecimen and data resource on over 500,000 individuals.
In collaboration with a consortium of pharma companies, the Regeneron Genetics Center has undertaken the exome sequencing and analysis of all 500,000 samples, using Apollo to host the dataset and run Regeneron's software pipeline. We partnered with Regeneron to construct a combined database of the biobank genomic and phenotypic data to explore, with an innovative "geno/pheno cohort browser" user interface that gives diverse teams the ability to browse and build cohorts among 3,000 phenotypic fields and 15,000,000 genomic variants across 100,000 samples.
"This resource has proven valuable to pharmaceutical companies, healthcare organizations and the scientific community, and has already led to more than 170 publications revealing novel associations with important epidemiological markers," Clinical Research News noted.
Data leads to new discoveries
The Sept. 18 award presentation came on the heels of another announcement: a £200 million expansion of the original £34 million pilot programme. The funding — half from government sources and half from biopharmaceutical and healthcare companies (Amgen, AstraZeneca, GlaxoSmithKline and Johnson & Johnson) — will enable each of the biobank's 500,000 samples to undergo whole genome sequencing at the Wellcome Sanger Institute in Cambridge, UK, and the deCOde site in Iceland.
"Today's funding will support one of the world's most ambitious gene sequencing programmes ever undertaken," said UK Business Secretary Andrea Leadsom. "Its results could transform the field of genetic repeated research – unlocking the causes of some of the most terrible diseases and how we can best tackle them. It will be a major step forward for individually tailored treatment plans, and will help us better understand why some people get certain diseases while others don't."
Data from Regeneron's exome sequencing efforts have already led to several scientific discoveries. One of the discoveries has been a better understanding of Type 1 diabetes. This is the most common form of diabetes in children, which has led to it being called 'juvenile diabetes'. However, a study using information from UK Biobank revealed that type 1 diabetes is almost as common in adults as it is in children. This hasn't been recognized previously because so many adults have a different kind of diabetes. Another study also shed light on the effect of diabetes on the heart.
Scientists in Australia used the data to examine the prevalence of inbreeding in the UK (~13,200 people born to extreme inbreeding), and scientists at the Broad Institute used it to explore whether there are any genetic links involved in same-sex partnerships. Another team of researchers used both sequencing and imaging data from the UK Biobank to characterize the brain signature and genetic basis of left-handedness.
"I am incredibly excited by the potential of genomics to change the way we think about disease and healthcare," said UK Health and Social Care Secretary Matt Hancock. "In an ageing society with an increasing burden of chronic diseases, it is vital that we diagnose earlier, personalise treatment and where possible prevent diseases from occurring altogether. This project will help unlock new treatments and grow our understanding of how genetics affects our risk of disease."
Researchers interested in applying for access to UK Biobank data should visit http://www.ukbiobank.ac.uk/register-apply/.
For more information about the UK Biobank Cohort Browser, visit https://www.dnanexus.com/product-overview/apollo/apollo-for-ukb