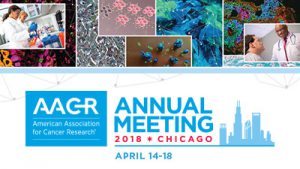 We are excited to be attending our very first American Association for Cancer Research 2018 Annual Meeting in Chicago, April 14th – April 18th alongside thousands of oncology researchers and clinicians. We will be exhibiting at booth 2845, located next to the St. Jude Children's Research Hospital booth.

Last month we announced our partnership with St. Jude and Microsoft to analyze and store half a petabyte of pediatric cancer genomic data and attended HIMSS 2018 to promote the partnership alongside 43,000 IT & Healthcare professionals. At AACR, we will be highlighting our capabilities around portals which provide customized spaces for users to securely collaborate and globally scale their scientific research through removing the heavy lifting around secure data access, management, and analysis.
St. Jude Cloud, utilizing DNAnexus and deployed in Microsoft Azure , is a data-sharing resource for the global scientific community allowing researchers to mine, analyze and visualize NGS data for pediatric cancer and other life-threatening diseases. The portal enables St. Jude and researchers worldwide accelerated scientific discoveries around pediatric diseases by comparing a vast multitude of datasets in a regulated and compliant platform.
See what we have planned at AACR below! If you're eager to schedule a meeting ahead of time with us, St. Jude Children's Research Hospital, or Microsoft, email us!
DNAnexus Activities at AACR
Demonstrations
Come visit the DNAnexus booth 2845 to get live demonstrations of the DNAnexus platform and DNAnexus Portals. Visit St. Jude Children's Research Hospital booth 2844, for live demos of St. Jude Cloud and the Childhood Solid Tumor Network. Our scientific experts will be onsite to answer how our solutions could accelerate your cancer research.
Monday, April 16th
Tuesday, April 17th
Meet & Greets
Also in the booth will be times for scientific "meet-ups" with leading researchers from St. Jude Children's Research Hospital and Microsoft Genomics. We'll be providing more information in the upcoming weeks for the sessions via Twitter, (so make sure to follow us!).
Presentation showcasing the DNAnexus Platform
Scott Newman, Group Lead, Bioinformatics Analysis at St. Jude Children's Research Hospital, will be giving a presentation at AACR showcasing how major cloud-computing infrastructure is necessary to making complex bioinformatics pipelines easily accessible and providing intuitive visualizations for data mining in the Cloud. You can read the abstract and see the meeting agenda on the AACR website.
Track: Computational Methods and Resources for Cancer Research
Access, visualize and analyze 5,000 whole-genomes from pediatric cancer patients on St. Jude Cloud
Sunday, April 15th
3:05 – 3:20
Room N228 – McCormick Place North (Level 2)
Visit us at booth 2845 to learn more about DNAnexus, see a live demo of the platform or portals. If you would like to schedule a meeting, make sure to email us!