A Recap of the 9th Annual Future of Genomic Medicine Conference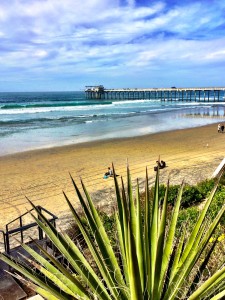 The Future of Genomic Medicine IX conference took place last week in the perpetually sunny La Jolla, California. The broad goal of this annual conference is to elevate the practice of genomic medicine by making it more precise, individualized, and effective. Key areas of focus for this year's conference included cancer detection, rare disease genomics, and the exciting area of gene editing.
The meeting began each day with a biographical case study – a patient interviewed on the stage by Dr. Eric Topol, who organized and led the conference. Friday's story came from Dardanel Robinson, who shared the tragedy and sadness of growing up surrounded by sudden and unexpected death. She witnessed family members — great-aunts and uncles, cousins, and even her father – all succumb to an early and unexpected death. She lived each day wondering what the future held for her and her six children. It wasn't until the death of her 26 year-old son Daniel, that Robinson decided to seek answers. Via the Scripps Translational Science Institute Molecular Autopsy Study, she learned that her son carried a genetic variant predisposing to sudden cardiac arrest. Robinson also found out she was a carrier as well. There are still many unknowns, but at least now Robinson is armed with the knowledge of her family's electrical rhythm defect and is taking preventative steps to reduce her family's risk of sudden cardiac arrest. You can read more about Robinson's story here.
Scripps packs a long list of speakers; inspiring individuals who are disrupting the genomics industry and changing the face of healthcare. Harvard geneticist George Church spoke about how reversing age in a number of different animals has been demonstrated in his lab and it's only a matter of time that we translate this into larger animals and humans. Anne Wojcicki, CEO of 23andMe, discussed the company's pivot into therapeutics. By leveraging the data of more than 1.2 million 23andMe customers, the company's researchers are looking into their own drug discovery programs. They hope to engage customers and look at genomic and phenotypic data for effective and efficient drug discovery.
I was especially excited to hear from speakers how the DNAnexus platform is advancing their work.
Charles Chiu, associate professor of laboratory medicine at UCSF, talked about using genetic sequencing to identify potentially treatable infections in acutely ill patients. As part of the California Initiative to Advance Precision Medicine (CIAPM), the project aims to expand the reach of this genetic testing approach to identify infectious diseases throughout the UC hospital system. DNAnexus is proud to support Dr. Chiu's efforts; an analytic pipeline that allows samples and sequences from different hospital locations to be processed securely and compliantly in the cloud.
David Ledbetter, Chief Scientific Officer at Geisinger Health System (GHS), provided an update on the inspiring work Geisinger and Regeneron have done in integrating genetic and electronic health records (EHR) data. Dr. Ledbetter discussed the anticipated clinical volume associated with the first 250,000 patients whose exomes will have been sequenced by Regeneron Genetics Center on the DNAnexus Platform. The GHS is unique in that it has a relatively isolated patient population containing nearly 20 years retrospective longitudinal EHR data. Out of 250,000 participants, Dr. Ledbetter expects to identify around 5,000 individuals that are carrying pathogenic variants. From these 5,000 participants, Geisinger expects to be able to identify 15,000 'at risk' relatives. Among the implications, Dr. Ledbetter advised that there is a need to have enough genetic counselors in the GHS to advise 20,000 on the consequences and probability of developing or transmitting an inherited disorder. This is an ambitious goal, but not one to be discounted, Geisinger has been at the leading edge of healthcare practices for decades (e.g. Open Notes: the sharing of physician notes with patients).
During the first week of March, Geisinger and Regeneron published a paper in the New England Journal of Medicine where their geno/pheno integration approach revealed a genetic variant that appears to reduce levels of triglycerides and lower the risk of coronary artery disease. We are very proud of the fact that the success of this approach is enabled by DNAnexus, our secure and powerful genome informatics and data management platform that allows for the seamless data integration and distributed collaboration of multiple stakeholders. Our Chief Medical Officer, David Shaywitz, shares his thoughts on this exciting research here.
One thing is abundantly clear: after two days of insightful and progressive talks, genomic medicine is reaching a point where the accumulated knowledge obtained by research is beginning to hit critical mass. All the pieces – patient partnerships, EHRs, genomics, policy, Big Data – are coming together to drive precision medicine out of the research environment and into the clinic.