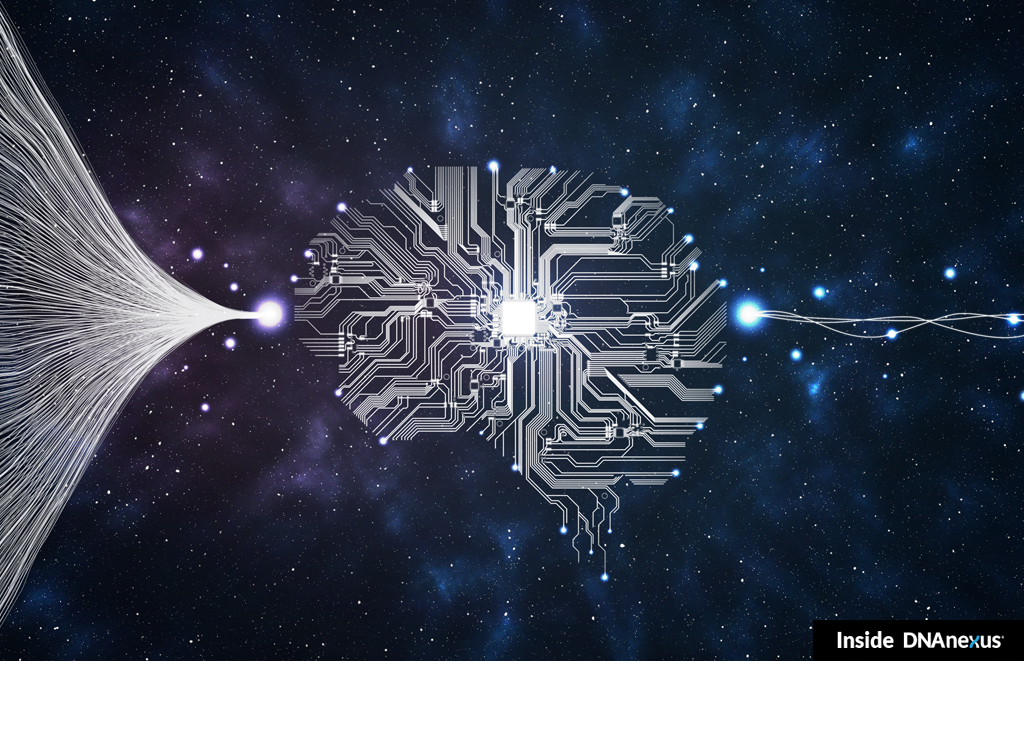 For nearly 30 years, Myriad Genetics has been at the forefront of precision medicine, transforming people's lives with pioneering molecular diagnostic tests, such as the industry leading myRisk hereditary cancer test for genes including BRCA1/BRCA2 that enable clinicians to understand the role genes play in the onset, progression, and treatment of human diseases. The company employs a number of proprietary technologies to power its products and they do this all at extreme scale for more than one million patients annually.
As part of its ongoing commitment to innovation, Myriad continues to invest in advanced AI and Machine Learning analytical methods to deliver the latest in next-generation technology in clinical validity and utility. Specifically, the company invests in three main categories:
1. Automating data intensive tasks for speed and accuracy
Typical bioinformatics pipeline development involves setting up infrastructure, building a computational process, and analyzing the results. When adjustments are made, this process repeats as many times as necessary until the pipeline has been properly optimized and validated. With complex and data intensive analyses, this process can consume many resources and take a lot of computation time. Myriad and DNAnexus partnered to develop Smart Reuse, a new framework that enables scientists to focus on the specific portions of the pipeline that have been updated. As a result, Myriad achieved a dramatic reduction in time as pipeline development went from weeks to hours, and in some cases they saw up to 100x acceleration. You can learn more about Smart Reuse from our blog where Jeffrey Tratner, Director of Bioinformatics Software Engineering at Myriad, presents at DNAnexus Connect.
2. Scaling human interaction and clinical interpretation
The second category focuses on a classic business problem of how to scale human interaction and clinical interpretation. Approximately 32 million women in the US qualify for hereditary cancer testing due to family history, but less than 5% of the eligible population get tested. The healthcare system can be notoriously complex in understanding whether you qualify for testing or treatment options, getting reliable cost estimates, and navigating payor reimbursement. Typically, this process requires a lot of human interaction. Myriad uses a combination of rule-based decision trees and machine learning to make recommendations for what the likely out of pocket costs will be for the patient. And because the disease is often based on family history, Myriad has developed tools for patient education where they can walk through a workflow that explains what conditions are represented in that person's family tree and if he or she is a good candidate for genetic testing.
3. Discovering novel indications and biomarkers for new products
Lastly, Myriad harnesses AI for discovery, improving its current tests, and expanding its portfolio. Myriad is able to leverage its wealth of genomic and phenotypic information to better predict cancer risk. For example, how can you use more signals in the gene to modify the risk of traditional cancer genes? With the BRCA1/BRCA2 genes it's well known that patients have a high risk in developing breast cancer. However, there are other classes of genes that are moderately penetrant (risk of 30-50%) and it's less obvious what you should do medically. Myriad has discovered additional polygenic risk indicators across the genome that can modify the likelihood of developing breast cancer for moderately penetrant genes, either making the gene more likely or less likely to cause cancer. This allows those of high risk to take proactive steps to care for their health.
When used correctly, AI and machine learning can provide a competitive advantage. However, Myriad understood that they needed a secure environment for R&D scientists to leverage these powerful and computationally intensive analytical methods, which require the latest GPU instances in the cloud for deep learning frameworks like tensorflow. DNAnexus Titan solves this issue, providing a collaborative platform that automatically tracks data provenance to ensure reproducibility. Scientists around the world are using the platform to spin up the latest GPU instances for a reasonable amount of time, leveraging Amazon Web Services (AWS).
To learn more about how Myriad is powering AI/ML advancements in precision medicine, you can listen to Kevin Haas, SVP of Technology at Myriad, speak at the AWS Healthcare & Life Sciences Web Day. Visit our website to learn more about DNAnexus' solutions for clinical diagnostics providers.