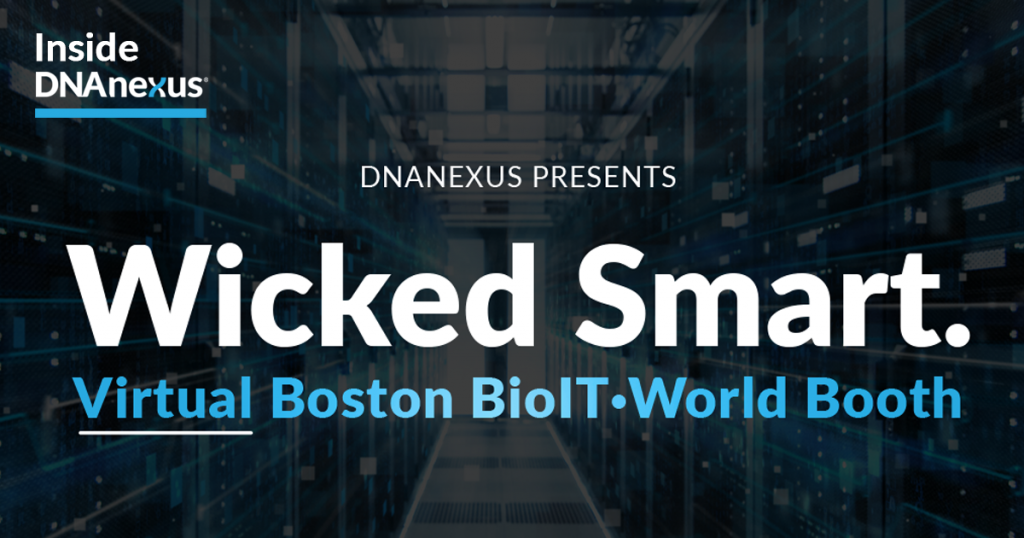 LIVE NOW! Visit the Wicked Smart digital experience: including webinars, expert demos, curated content, and super swag.
When we realized we wouldn't be able to attend the Boston Bio IT World Conference and Expo in person, we came up with the next best thing: A virtual booth.
Webinars
Explore Millions of Clinico-Genomic Data Points from UK Biobank
April 23, 2020, 10 a.m. PT
Did you know that another load of whole exome sequencing data will be released by the UK Biobank soon? That's millions of clinico-genomic data points, in a single dataset. Will you be ready to mine it? This webinar will introduce you to Apollo™ for UK Biobank, an analytics solution purpose-built for researchers looking to explore and analyze genomic and phenotypic data together, at scale – and at lightning speed. You can learn how to explore possible correlations across population-wide genomic and phenotypic data; easily create and compare the genetic and phenotypic features of custom cohorts; investigate characteristics of a cohort of individuals who carry the same genetic variant; and quickly conduct sophisticated, iterative analyses of cohort data using the embedded JupyterLab environment.
Rapid Exploration of Oncology Clinico-Genomic Data from TCGA
May 14, 2020, 10 a.m. PT
Mining large scale multidimensional oncology datasets like the The Cancer Genome Atlas (TCGA) to identify novel diagnostic, prognostic, and treatment response markers remains a huge endeavor for researchers, and easy identification of TCGA cohorts that meet clinical inclusion criteria poses significant challenges to clinician researchers and bioinformaticians.
We can help. Learn how our Apollo platform can enable you to explore expansive TCGA clinical data elements with the Apollo Cohort Browser; identify, compare, and save cohorts of TCGA individuals that meet key phenotypic criteria; and launch detailed analysis of genomic features of TCGA cohorts using the embedded Apollo JupyterLab environment.
Live Demo
Powering Precision Medicine and Targeted Genome-Based Therapies with DNAnexus Titan
April 28th, 2020, 10 a.m.
Pharmaceutical companies are rushing to unlock the power of next-generation sequencing genomics to advance precision medicine. With the size and scope of research initiatives growing rapidly, pharma is experiencing scalability, reliability, and productivity challenges with their internally-built systems. To handle the higher volumes of multi-omics data and to get more strategic value out of analysis pipelines requires a centralized, cloud-based data analysis solution to fuel scientific advancement.
Join us for an interactive live demo to learn how DNAnexus Titan eliminates bottlenecks in development and production systems with a unified platform that brings data and pipelines together for streamlined analysis.
Presenters:
Ben Busby, Principal Scientist
Darren Ames, Solutions Science Director
White Papers
Want to learn more about compliance in the Cloud? We've compiled some useful information about security, privacy and quality for your genomic analysis, as well as how to navigate the odyssey of big genomics in biopharma R&D to deliver genomics-based precision medicine. Explore lots of other handy info sheets that describe our products, use cases and FAQs.
Free Stuff
Probably the most popular feature of any conference booth, our digital version doesn't disappoint, with some wicked smart swag, while supplies last. Fill in a quick survey for your chance to get free tee shirts and/or totes. Totes cool!