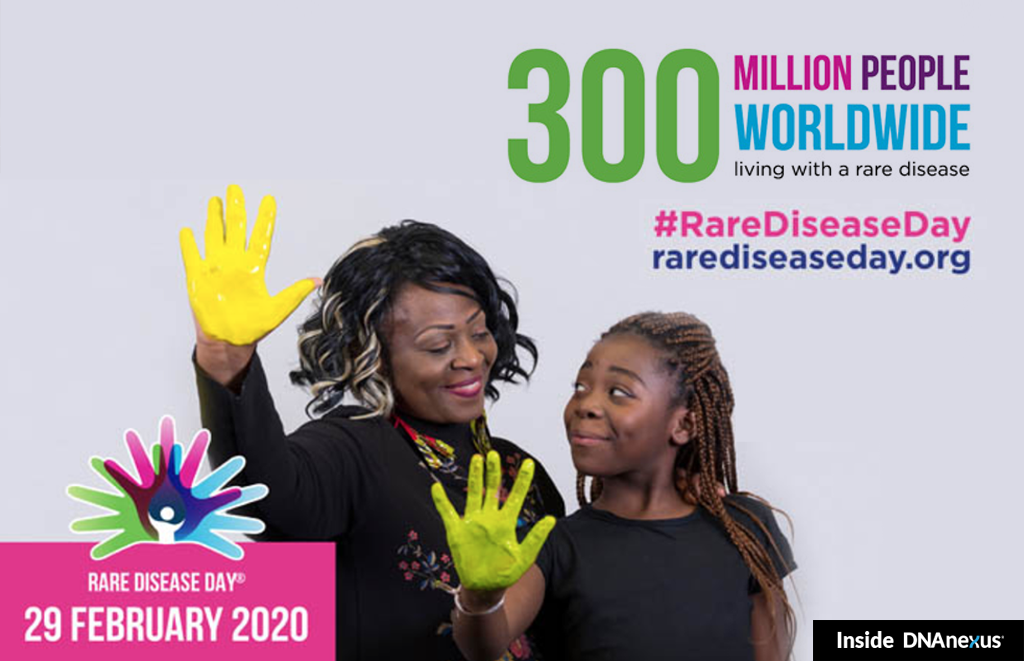 The moment a baby is born is often described as the happiest day of a parent's life. But imagine the fear in discovering that your newborn baby is presenting with unexplainable, yet rapidly progressive seizures. Early Infantile Epileptic Encephalopathy 12 (EIEE12) is a rare neurological disorder that causes newborns to develop frequent epileptic seizures and occurs when a child inherits two mutations in the PLCB1 gene. EIEE12 is difficult to diagnose and is associated with high rates of infant mortality. Learning this would be a terrifying reality as a parent, yet EIEE 12 is only one example of a rare disease that is difficult to diagnose and deliver timely treatment.
Despite the nomenclature, there are actually many rare diseases, and an estimated 300 million people around the world live with one of these diseases. A rare disease is defined as a disease that affects fewer than 200,000 people. Today, DNAnexus joins others in raising awareness for those diagnosed, and undiagnosed, with a rare disease by celebrating Rare Disease Day.
Select rare diseases, including some cancers, autoimmune diseases, and infections are not inherited; however, 72% of all rare diseases are genetic. Further, an estimated 4% of newborns in North America have a genetic disorder, making rare diseases the leading cause of death for infants. Because of the lack of scientific knowledge of many of these diseases, they can be extremely difficult to diagnose, impeding the ability to deliver timely and precise treatment. For newborns presenting with unexplainable medical conditions, this delay in treatment can sometimes mean the difference between life or death. And for those who survive early childhood, it can feel like a never-ending road of symptoms and misdiagnoses.
Medical professionals seeking to find a treatment for these patients are searching for that needle in a haystack. Genetic diagnostics has become an increasingly common way to diagnose patients presenting with unexplainable symptoms, since DNA sequencing is the most efficient way to define and subtype hereditary diseases and determine the most effective, individualized treatment plan.
Rady Children's Institute for Genomic Medicine (RCGIM) at Rady Children's Hospital has the inspiring vision to ensure that genome-powered diagnosis is available to every child who needs it and is carving the path to deliver life-changing diagnoses for children with rare diseases. Rady Children's, with its network of technology and data-science partners, is forging the way by expanding access to genomic medicine and significantly reducing turnaround time for results, saving childrens' lives.
Other industry leaders like Blueprint Genetics, a genetic testing company providing diagnostics and clinical interpretation for rare inherited diseases in 14 medical specialties, is working to scale efficiencies to make diagnosis less challenging for physicians. By partnering with DNAnexus, Blueprint was able to scale in velocity and volume by moving its bioinformatics pipelines to the cloud and removing the sequencing and bioinformatics bottleneck from the equation.
Organizations like Rady Children's Hospital and Blueprint Genetics are just two examples of the myriad of organizations paving the way to better understand the underlying mechanisms of rare inherited diseases and discover treatments. In celebration of Rare Disease Day, we tip our hats to innovative companies like these and others that are leading the genetics revolution to rapidly diagnose rare diseases, and develop treatments for those in need.
Want to participate in Rare Disease Day? Get involved and share your thoughts on Twitter with the hashtag #RareDiseaseDay.