From its inception, genomics has captured public imagination for its promise to save lives and improve the human condition. The rapid Whole Genome Sequencing (rWGS) work published by Rady Children's Institute for Genomic Medicine (RCIGM) in Nature Genomic Medicine represents as near a manifestation of that promise as any.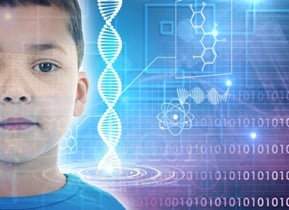 Genetic disorders and congenital anomalies affect 6% of live births. Severe occurrences convert a time of joy into an urgent, chaotic race for answers to save a newborn's life and ease the child's suffering. The paper describes RCIGM's diagnosis of 42 infants admitted to the NICU, over the first nine months of their rWGS operation. Of those infants, 43% were diagnosed by sequencing (compared to 2% by traditional methods). Consequently, there was a change in medical management in 72% of those cases. In some instances, this adjustment resulted in immediate, life-saving, targeted treatment that helped children avoid unneeded, high-risk, and costly surgeries.
On an economic basis, the sequencing program was strongly justified – reducing the inpatient cost between $800,000 – $2,000,000 by improving patient outcome, avoiding futile procedures and ending the diagnostic odyssey.
The study, which was part of RCIGM's Rapid Newborn Diagnostics Program and a larger National Institute of Health (NIH) research program led by Dr. Stephen Kingsmore, MD, DSc, President and CEO of RCIGM, took place between July 2016 and March 2017.
Achieving these results demand broad and exceptional expertise from RCIGM – spanning patient consent, sample accessioning, sequencing, analysis, and diagnostic turnaround of results in a high-pressure environment within a very short time frame (2 – 5 days), all the while remaining compliant to CAP/CLIA standards. The scientific challenge is especially great as causal variants in newborns are far more likely to have never been encountered before due to their lethality, more likely to arise de novo, and typically involve complex, hard to call structural variants.
RCIGM has clearly demonstrated the model of rWGS to save lives, suffering, and expense. The next challenge is to expand the reach of the program to achieve the greatest impact. Now there are plans to implement the Rady's program at other regional hospitals such as Children's Minnesota, Children's Hospital of Orange County , Children's Hospital Colorado, and Nicklaus Children's Hospital in Miami (with more expected to follow over time). DNAnexus is excited to be a part of this monumental effort to transform pediatric medicine, powering RCIGM's rWGS analysis and providing the key infrastructure to link up the pipeline partners.
"I believe this is a monumental publication that clearly demonstrates the diagnostic and clinical utility of whole genome sequencing with hard numbers. We are very motivated to propel this technology into pediatric institutions around the country and grow the evidence base. We are excited to be working with DNAnexus to scale our operations and help create a secure and seamless logistical framework." said Dr. Narayanan Veeraraghavan, Director of Informatics & IT at RCIGM.
As RCIGM's rWGS program expands to clinical partners around the country, they will be able to leverage the scalability, flexibility and security offered by the DNAnexus Platform. The DNAnexus platform is well suited to support such collaborative efforts, enabling secure sharing of data and tools in an efficient manner.
I strongly encourage you to read the paper. It contains descriptions of several cases. Though identities are withheld and the work is highly professional and academic, the details tell a deeply human story – a risky procedure avoided at the last minute, a child saved from a likely condition of neurological impairment. The story refreshes the vision of hope from the early days of genomics as the first draft of the genome was completed – the promise that through effort and ingenuity, we can secure a healthier and safer future for our children.