The annual European Human Genetics Conference, better known as ESHG for its sponsor, the European Society of Human Genetics, just wrapped up and we are still digesting all the great information presented there. Some 2,000 people descended on Nürnberg, Germany, for the meeting, and we were pleased to be among them — both as attendees and as an exhibitor.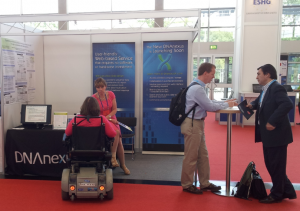 As expected, ESHG 2012 drew top-notch speakers presenting really interesting science. A talk from Peter Lichter of the German Cancer Research Center in the opening plenary session on single-cell sequencing for pediatric brain tumors generated discussion throughout the event. A session on prenatal diagnosis was also very crowded, and Stanford's Hank Greely spoke about the implications of fetal gene screening.
As routine clinical use appears imminent, there was a lot of conversation around whether clinicians and patients are truly ready for this kind of information — as well as the different regulations governing this kind of information from one country to another. Les Biesecker from NHGRI presented the results of a study indicating that patients are in fact prepared for this kind of data, and Alexandra Soulier from Inserm spoke about a study in France showing tremendous hope for the use of next-generation sequencing in the clinic. Soulier noted that the French study targeted young, highly educated respondents, so the positive results might not be representative of the general population.
The conference was the first one I've attended that had its very own smartphone app. Attendees seemed to really enjoy using it, but that didn't mean everyone at the conference was a card-carrying tech expert. In fact, much of the feedback I heard from biologists and clinical researchers was that they are eager to make the most of sequence data, but worry they do not have the bioinformatics expertise or resources to do so. This serves as a good reminder that tools developed for this field will need to be simple to use for non-specialists — that means clear interfaces, less jargon, and an intuitive feel for the process. It was nice validation that ease-of-use, which has long been one of the primary goals here at DNAnexus, will indeed be critical for expanding access to sequence analysis in this field.